Why use our Security Services Birmingham
Let us take your stresses away by looking after your premises from thieves, looters, protesters. You can be assured your assets are well protected with Acre & Tweed.
We offer free quotations by our experienced Management Team. They will be able to walk you through and advise the best solution to your security needs with input by yourselves.
With multiple options available for you including but not limited to;
• Manned Guarding
• k9 Handlers
• Response Drivers
• Drug/Explo Detection K9's
• Drone Surveillance
Give a member of our team a call today for more information on 020 3827 0421
K9 Protection Dogs Birmingham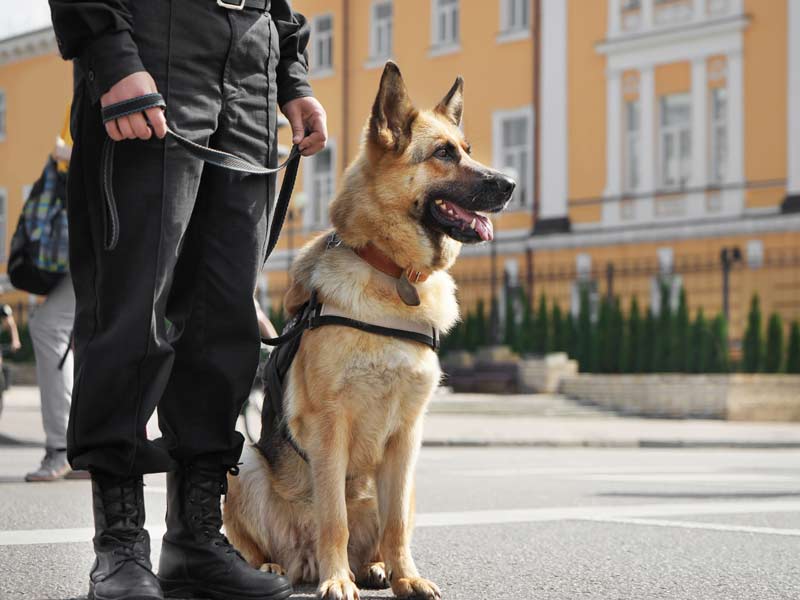 K9 Security Birmingham can provide a visual deterrent for your site and tackle the issues surrounding proactively protecting sites from damage, vandalism or burglary.
The security dog plays a big part of alerting his/her handler to an intruder, who in return completes the necessary procedures to deal with the intruder.
Our guard will also maintain rigorous access control for your site to ensure no unauthorised people will access your site.
A dog handler and dog can provide an active solution to your issues by patrolling the area by foot and keeping alert for irregularities in the area and security concerns.
K9 Drug Detection Dogs
The attention to detail offered by our Drug Detection handlers in Birmingham is beyond reproach. Their friendly yet professional manner helps us to ensure we represent our clients to a very high standard with public safety, customer service and discretion being of the utmost importance.
Explosive Detection K9
We are able to deploy our K9 explosive dog unit to stadiums, airports, shipyards as well as high profile meeting places and big social occasions such as festivals, events and parties. We also have a long track record of providing EDD teams to large events and diplomatic tasking's across the UK and Europe.
Drone Surveillance Birmingham
Whether you're monitoring a large event, a protest, or even an individual, we can provide your team with the overview they need to maintain control. With highly qualified and experienced drone pilots we are able to supply drone surveillance in Birmingham at any time, 24/7.
Our drone pilots comply with CAA (Civil Aviation Authority) guidelines with full insurance to complete drone surveys, drone surveillance, and much more.
Static Manned Guarding
The manned guarding services in Birmingham we typically offer include managed alarm system functionality, regular security checks, facility management services, 24/7 management team. Our static guards are highly flexible to ensure your business is protected when it is most at risk.
Event Security
In recent years our event security Birmingham has gone from strength to strength so we have the right people, the knowledge, and the track record to ensure your Birmingham event is secure, safe and well run.
All our event security team are PIT and spectator safety qualified.